What is the myBVA Process
Our tools provide guidance to create and achieve your individual and business success.
my vNacelle offers CEO's, Executives, Entrepreneurs and Small Business Owners the proven and successful myBVA (Business Value Accelerator™) process online. The myBVA process will guide you to create and achieve your personal/business goals so your business will fly faster in the direction you want it to go.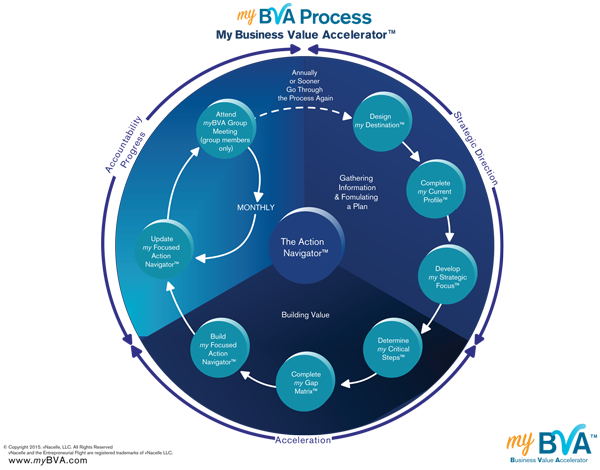 myBVA Process
Together we navigate through the process of business value acceleration and sustainability. You will create an understanding of current business realities and chart a course for growth. As you develop specific skills, behaviors and mindsets for each stage of business, you will gain clarity and confidence to increase growth and success.
If you are truly committed to building your company then let us guide you through the process of business value acceleration and sustainability.

Executives and Entrepreneurs can now experience the benefit of the myBVA (Business Value Accelerator™) process in a virtual peer group setting. myBVA Groups combine expert facilitation with peer support using a streamlined and cost effective online experience for busy business leaders. You, along with like-minded members and an expert myBVA Coach, will share skills, knowledge and wisdom. The myBVA process keeps you moving in your desired direction.

Benefits
Develop your leadership skills and knowledge.
Achieve increased financial freedom and dramatic business growth for yourself and those around you.
Accelerate your business value and make your business one that will be sustainable for you, your family, employees, successors and all that rely on the business.

Member Profile
Busy growth minded CEO, entrepreneur or business leader
Desire to accelerate entrepreneurial growth for you and your business
Smart, passionate, open-minded, critical thinker, sense of humor
Collaborative and willing to share and receive valuable feedback

Process
Convenient virtual meetings
Expert facilitated three hour meeting once per month
4-8 members for optimum interaction and feedback
The proven myBVA framework for growth and success with actionable strategies and accountability for progress
Customized process to match your stages and growth
A safe and confidential environment
Actionable strategies and accountability for progress

Entrepreneurs are busy people and you've gotten to where you are through continued learning. Here you have the option to use the myBVA process online and create an individualized path toward to your goals.

This is a free resource dedicated to entrepreneurs and business leaders providing knowledge, research and resources to help you build, grow, and run your business. Visit regularly to find valuable, relevant and useful articles, blogs, book reviews, and more…
The road to success is found by knowing where you have been, determining where you want to go and then accelerating your business to get there. Contact us today to accelerate your development as an entrepreneur and the development of your team to make your business fly faster and farther.
hear what some of our clients had to say…